Regarding the circumstances surrounding tea in recent years, domestic annual green tea consumption per household has been declining due to factors such as diversification of lifestyles, but international demand is growing as the functions and benefits of green tea have attracted attention due to greater health consciousness.
Furthermore, as tea is more than simply a favored beverage, popular as a tool to soothe the mind and facilitate communication, pursuing cultural exchange though tea in the spirit of hospitality is extremely important to advancing mutual understanding between differing cultures.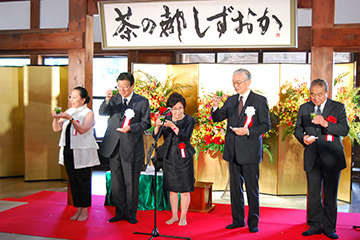 World Tea Festival 2016, the sixth festival, was held in both spring and autumn, with more than 150,000 participants from 32 countries, the most ever. The spring festival was held during the season filled with the scent of new tea, and received high praise. At the autumn festival, a wide variety of useful information was shared, including the latest data on the functionality and benefits of tea. With each event the World Tea Festival greater enthusiasm and expansion can be seen, and domestic and foreign cultural exchange via tea makes ever more progress.
Accordingly, we will hold the 7th World Tea Festival in 2019 in Shizuoka Prefecture, which is working to develop this "tea capital" as a center for Japan's tea production, culture, and research, in order to help present and spread appealing tea culture, to explore and experiment with new possibilities for tea, and further expand international demand for Japanese tea.


This slogan expresses the hope that as the "tea capital of Japan" and a center of tea production, distribution, and research, etc., Shizuoka Prefecture will continue to lead going forward.

Name

The 7th World O-CHA(Tea) Festival

Publicity Name

World O-CHA(Tea) Festival 2019

Spring Festival

Schedule:May 10-12, 2019
Venue:Tea Museum , Shizuoka
Held during the season for enjoying new tea grown in the prefecture, the festival is based around the Fujinokuni Tea Museum to make the most of local resources such as the scenery of its tea garden, and it is run in cooperation with the Shizuoka Destination Campaign, a large-scale tourism promotion campaign by Shizuoka Prefecture.

Autumn Festival

Schedule:November 7-10, 2019
Venue:Shizuoka Convention & Arts Center "GRANSHIP"
Held at the Granship multi-purpose cultural center, it brings under one roof various programs, including publicizing tea-related products and the latest information in "Production," communicating the refined appeal of tea in "Culture," and presenting international scientific findings in "Research."